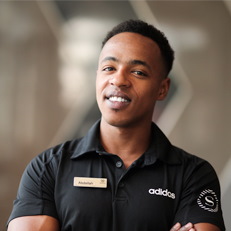 Abdullah Al Harthy
Personal Trainer
Abdullah Al Harthy
Personal Trainer
Abdullah is a Fitness Aerobics Instructor, certified PRAMA Instructor and certified Obesity and Weight Management. He encourages clients to focus on their goals in order to achieve the best benefits and results from their work out. He believes that along with exercise, holistic wellness strategies are the best way to achieve body weight loss, muscle gain, posture, strength or endurance. His favorite client is anyone with a goal and a willingness to work towards it!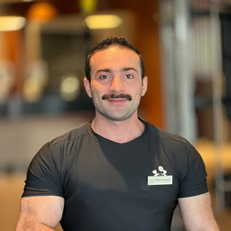 Abdelrhman Alahmer
Personal Trainer
Abdelrhman Alahmer
Personal Trainer
Our highly qualified fitness expert with a Sports Diploma and IFPA certification, Coach Abdelrhman Alahmer specializes in weightlifting, fitness, and sports life, and provides personalized workouts, tips, and motivation to help our members and hotel guests reach their goals. With an impressive track record, including eight-time JFBB Champion and success in bodybuilding MPC competitions, Coach Abdelrhman is your go-to coach for achieving fitness excellence.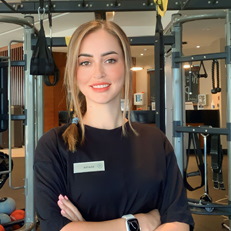 Shatha Al Kafaween
Personal Trainer
Shatha Al Kafaween
Personal Trainer
Shatha Al Kafaween is a BA graduate in Management and Sports Training with a passion for education and skill development. She completed a "Training of Trainers" course accredited by the Ministry of Higher Education. Eager to make a positive impact in sports training and management, she aspires to empower individuals and teams to reach their full potential.